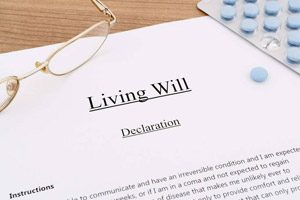 As a part of your estate planning, you need to consider how decisions will be made about your health, if you lack the capacity to manage your own affairs. You may have strong feelings about the type of care you will receive and such issues as whether or not you want to be kept alive by artificial means. You may have heard the terms "living will" and "advance medical directive" used in reference to such decisions. Are they the same thing? Do you need both or is one sufficient?
Living Wills
A living will is an enforceable legal document that identifies the types of medical treatment you do or do not wish to have in the event of a medical emergency. Living wills are frequently used to state your wishes with respect to artificial life support. Also known as a "health care declaration," the living will typically does not name a person to act as your medical power of attorney or make decisions for you. Instead, it's customarily limited to specific instructions about care, which can be implemented by anyone.
Advance Directives
An advance directive is a legally binding document that provides instructions for actions to be carried out or avoided while you are still alive, but typically in the instance where you lack the mental capacity to make rational decisions. The advance directive is broader in scope than a living will, typically merging the "health care declaration" with a designation of a health care power of attorney. The living will is essentially a subset or type of advance directive, more limited in scope.
If you have an advance directive, you typically don't need a living will, provided the directive includes any declarations you want to make about your health care.
Contact Our Office
At the law offices of Gary F. Woodend, MBA, JD, we have protected the rights of hundreds of New Jersey residents in probate and estate matters. We have the knowledge, skill and experience to handle complex, multimillion dollar estates. To schedule a confidential consultation, call us at 609-654-5489 (toll-free at 888-336-8417) or contact our office online.